Posted by Austin Chen on 07 May 2019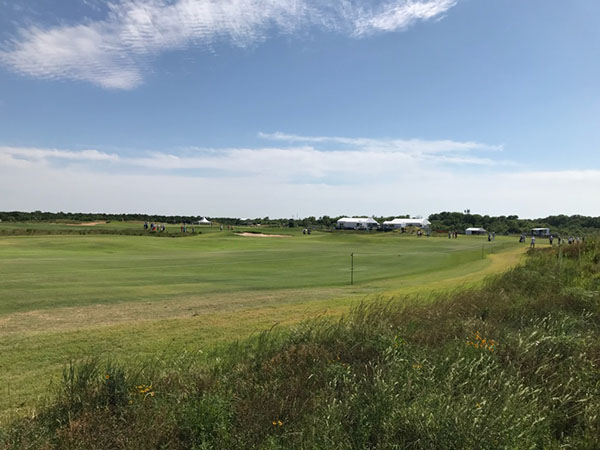 The PGA makes its annual stop to Dallas this week for the AT&T Byron Nelson. This is the 2nd edition of the Nelson played at Trinity Forest. This course was built on what was a landfill and the lack of any trees is a rare sight especially on the PGA Tour. Trinity Forest opened up in 2016 and is a links style course designed by Bill Coore and Ben Crenshaw.The course will play 7,371 yards and is a Par 71. With all the rain this year, the course will play longer. The fairways are Zoysia grass and the rough is blackland prarie grass. This course has 85 bunkers and no water hazards. There has been 3 main changes made to the course this year. The par-3 8th will now play at 160 yards instead of 140. The par-3 12th is now lengthened to 220 yards from 205. Finally, the par-4 16th is now 385-yards instead of 429 yards. The greens are huge here avg 13,000 square feet. One of the highlights of Trinity Forest is the 36,000 sq ft double bermuda green shared by 3rd and the 11th hole. Aaron Wise is the defending champion with a winning score of -23.
Notable Names In The Field
Brooks Koepka
Jordan Spieth
Tony Romo
Hideki Matsuyama
Henrik Stenson
Patrick Reed
Fan Experience Improvements For 2019
Closer ride share drop off/pickup
Anti dust treatment on pathways to help dust flying around everywhere.
Pavillion has been moved to the actual course versus having it to the side last year. It will be located at the corner of the fourth green and the fifth tee. Katy Ice House will be sponsoring and have also brought in 20 trees to provide shade.
Public shade structures and misting systems have been added across the course. Now 11 holes will have shaded viewing decks or covered bleachers.
Tickets
Daily Grounds tickets are $45 and you can get them here
Gate Hours:
Wednesday: 8 a.m. – 7 p.m. | Thursday – Friday: 7 a.m. – 7:30 p.m. | Saturday – Sunday: 8 a.m. – 6:30 p.m.
*Free tickets for military and first responders and children under 17
*Wednesday Pro-AM is Free
Parking
General public parking is at 2100 South Haskell Avenue, Gate 15 parking lot.
Shuttle times:
Wednesday: 7:45 a.m. – 8 p.m. | Thursday – Friday: 6:45 a.m. – 8 p.m. | Saturday – Sunday: 7:30 a.m. – 7:30 p.m.
There is also free shuttle service from Happiest Hour and Katy Ice House in Uptown.
Weather:
Temperatures will be much cooler this year. There are possible storms on Thursday and Saturday. The highs will be in the 70s and lows in the 60s.