Posted by Austin Chen on 18 Jun 2019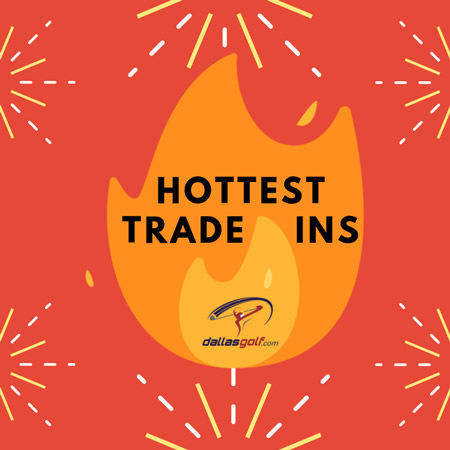 Things are heating up as summer is upon us! Dallas Golf has been in the used club/trade in business since 2002, so we have seen over a million clubs come and go. We wanted to share with you what trends we are seeing right now. Keep reading to find out the hottest trade ins this year! Don't forget that you can trade in or check what your clubs are worth here.
Drivers :
The hottest drivers in 2019 are the Cobra F9, TaylorMade M5/M6, and Ping G410. When these clubs get traded in, they tend to sell as soon as we put them up for sale. There are plenty of older drivers that are still holding value. Clubs like the Ping G400, TaylorMade M1 and M2, 2016 TaylorMade M2 Drivers, or Callaway Epic Driver either sell quickly or don't get trade in as much as other clubs their age.
Fairway Woods:
The most in demand fairway woods right now are either theTaylor Made M5/M6 or the Cobra F9 fairway wood. As far as older generations go, the TaylorMade 16/17 M2, Cobra F7 and Nike Vapor Fly are all holding steady as they get snatched up quickly when we get them.
Iron Sets:
Any #2 hybrid or driving iron have been in high demand.The TaylorMade GAPR, Srixon Z U, and Callaway Apex Hybrid 19 are the clubs in the highest demand. The Ping G400 Crossover and Cobra Utility irons are holding steady as they get sold whenever they come in.
Hybrids/Driving Irons:
The hottest irons in the trade in market right now are the Mizuno JPX 919 Hot Metal/Forged/Tour, Srixon 585/785 Irons, and Callaway Apex 19 irons. Older generation iron sets that are holding value well are the Titleist 716 AP1/AP2, TaylorMade P790, Mizuno JPX 900 Tour, and Nike Vapor Fly Pro. This is not suprising as all those sets have been very well regarded within the golf community.
Wedges:
The TaylorMade Hi-Toe wedge is the most popular trade in wedge since their released. Whenever we get any, they are snatched up right away. Cleveland RTX-4,Vokey SM7, Mizuno T7 wedges are other wedges in high demand this season.
Putters:
The hottest putters in 2019 are the Odyssey Stroke Lab putters and TaylorMade Spider X putters. Both of these putters are packed with the latest technology. TayloMade Spider Tour putters are still holding value very well as they are still in plenty of bags on the PGA Tour.
Trade In Your Clubs Or Check Out How Much Your Clubs Are Worth