Posted by Dallas Golf on 10 Jun 2022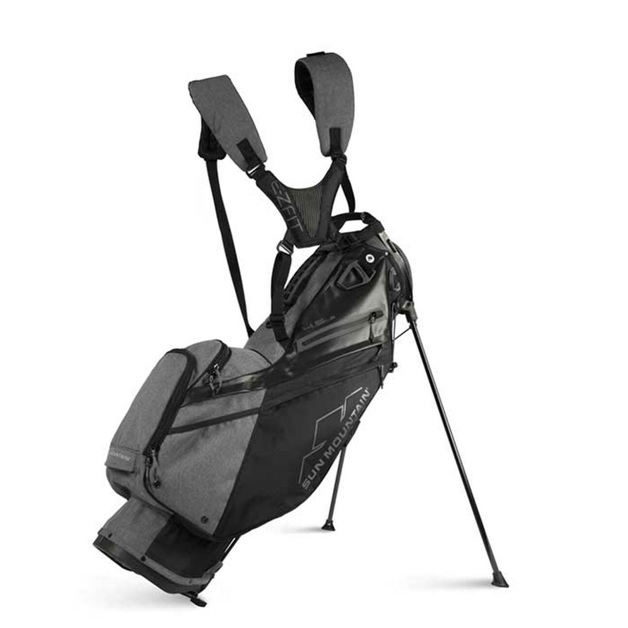 Much of what makes a quality golf bag for a man also makes a quality golf bag for women. For instance, cart bags must still be ergonomic and capacious, preferably with comfort lift handles and pockets that are all accessible from one side. Not too much difference there.
Stand bags experience the same phenomenon. If it's very lightweight, to the benefit of players that walk the course, and still has plenty of pockets, it's a good golf bag for women, too. Lady players obviously also benefit from padded hip and shoulder straps, just like men.
Sometimes, golf bags for women are a little bit shorter and lighter, if they are expressly designed that way, and occasionally they take on different colors and designs, but that's about it.
So, to make your shopping a touch easier, we've rounded up some of our top golf bags for women. If you're getting into the sport yourself or need to treat a special lady in your life to something new, start with these three. They have a lot to offer.
Sun Mountain 2022 4.5LS 9-Way Stand Bag
The Sun Mountain 4.5LS 14-Way Stand Bag (see above for a picture) is new and improved for 2022. It's lightweight yet midsized, making it perfect for players who have a lot of gear they need to take on the course - plus, it has a 9-way divider to keep your clubs safe and well-organized.
It has an EZ-Fit Dual Strap System that makes it not only practical as a stand bag but as a cart bag, too. It can be secured to a golf cart (behind the clothing pocket) for easy access to the other pockets, making it a great hybrid solution. It also features a leg-lock system and a cart-friendly bottom and comes with a matching rain hood to keep your gear dry.
Best of all, this stand golf bag for women has backpack-style straps that are, in a word, more comfortable. You can carry a bag like this all day long without fear of discomfort or premature fatigue.
Sun Mountain 2.5+ Stand Golf Bag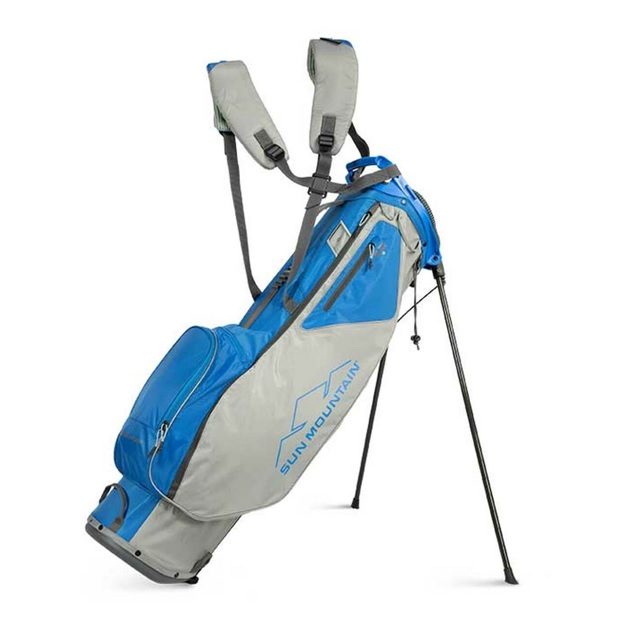 Available in a number of colors, the Sun Mountain 2.5+ Stand Golf Bag is another excellent option.
The Sun Mountain 2.5+ is ultra-lightweight, even better than the previous model, making it more of a tried-and-true stand bag than a stand bag-cart bag hybrid.
This golf stand bag weighs just 2.9 pounds empty, and with its X-Strap System, you'll hardly even know it's there. Empty, it's light as a feather, and its comfortable carry system with high-density foam straps makes the whole getup that much more comfortable to carry - even fully loaded. Think of it as an anti-fatigue golf stand bag. Even though it's light, it's also tough and comes with highly durable, carbon fiber legs.
This stand bag features a 9" top with a 4-way divider as well as 6 pockets. It's not the largest stand bag in the industry, but it is by far one of the lightest and is very easy to carry. Plus, it has a good deal of room, too - everything you need to carry the essentials for a day on the golf course.
Titleist Players 4 Carbon Stand Bag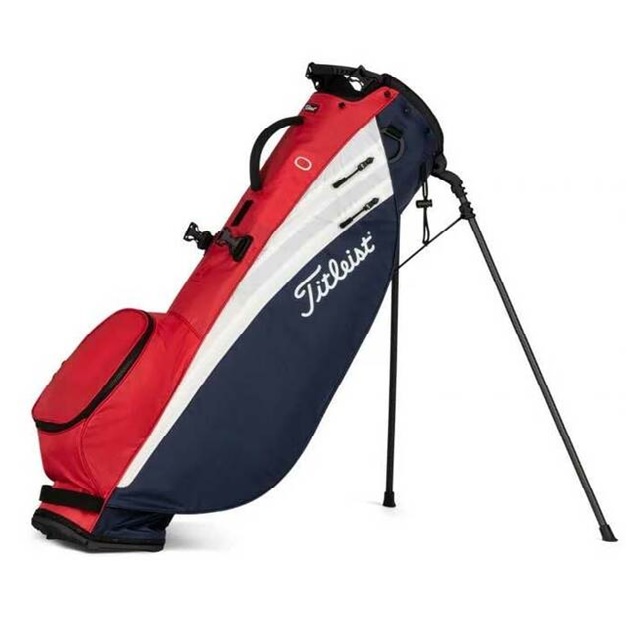 The Titleist Players 4 Carbon Stand Bag is another gem of a stand bag for women and one we didn't want to forget to add to this list.
If you thought the Sun Mountain 2.5+ was lightweight, make room in your mental Hall of Fame. The Titleist Players 4 Carbon Stand Bag comes in at just - drum roll, please - 2.8 pounds, empty.
It's the perfect sort of golf bag for players that like a lightweight, ergonomic, comfortable-to-carry design that still has plenty of capacity. Looking at it, it doesn't look like it's that light. It looks like it has plenty of space - and it does.
This stand bag features a 4-way organizer and five different pockets of varying sizes. It also makes artful use of a padded top with a low profile and full-length shaft dividers to keep your precious golf shafts safe, even during grueling days on the course.
Plenty of room, ergonomic, comfortable design and exceptionally lightweight nature make this a stand bag that deserves an uncommon measure of attention.
If you need a new stand bag, don't pass by our website without taking a closer look at this one.
Golf Bags for Women and More!
In addition to these golf bags for women, we carry a number of other golf cart bags and travel bags, as well as other ladies' golf equipment including women's golf clubs. Take a look through our collection of high-quality ladies' golf bags and don't be afraid to get in touch with us if you have any questions about anything we carry.
You can reach us by phone at 800-955-9550 but we'd also love to see you in our shop in Dallas so pay us a visit if you're in our area.