Posted by Dallas Golf on 25 Jan 2021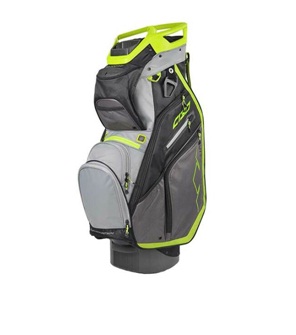 So you need a new golf cart bag - that's great, but remember that not all golf cart bags are created equal. Additionally, not only are they not all made to the same standards of quality (and they don't all offer the same features) but different bags will appeal to different players accordingly.
For example, you might place space at a premium over weight; that is to say, you might have a lot of clubs, gear, and other equipment that you feel you must always have on you, so you might want a golf cart bag that weighs a little more but has extra space.
By contrast, there are golfers who care more about lightweight cart bags, others who care more about ergonomics, and others yet who care more about waterproofing and other unique features.
The only way to settle on a golf cart bag that suits you is to do a little digging. Don't buy on brand alone, because the value-added features are just below the surface. To that point, check out some of the following features that you can find in our collection of Sun Mountain golf cart bags:
-A reverse orientation top - Some Sun Mountain golf cart bags like the C-130 come with a reverse orientation top that makes them more useful when they are loaded up in the back of the cart - that is, it makes it easier to access their contents - but that just scratches the surface of cart bag design!
-Multiple utility handles (or lift-assist handles) - Many Sun Mountain cart bags come with either multiple utility handles or lift assist handles. In the place of the former, this is useful because it is sometimes to manipulate a heavy cart bag that has shifted into its side. In the case of the second, these are useful because it makes it easier to get the loaded cart bag in and out of the cart in the first place!
-Forward-facing pockets - Forward-facing pockets are extremely useful on a cart bag since for the most part, cart bags will not leave the cart. They're designed to be loaded into the back and then accessed at the convenience of a player whenever the need for equipment arises. Many Sun Mountain Cart bags are made with forward-facing pockets so that you can access your gear - all of it - even after the bag is loaded up.
-Plenty of room - Room is important with a golf stand bag, and you'll see that it's no exception with the design of so many Sun Mountain models. Since many cart bags sacrifice weight and size to offer more room, having a model that offers adequate space is very important.
-Full-length dividers - In addition to offering room, a cart bag should also provide protection for your equipment. For example, many Sun Mountain bags feature a large number of full-length dividers. These dividers are valuable for more than just stopping shaft migration - they also keep your shafts from rattling around and damaging each other.
-Cart bumpers - Some Sun Mountain golf cart bags are even made with cart bumpers that serve as an additional layer of protection for your bag and equipment (and the other bags in the cart). They're just a nice feature to have.
-Specialized pockets - Many Sun Mountain golf carts come with pockets that are lined, protective, and specialized to specific equipment. For example, the model mentioned above comes with a pocket designed to house and protect your rangefinders.
-A matching rain hood - Let's face it, everyone gets caught out in the rain sometimes, including the professionals - no one can ever be too prepared. That's why plenty of Sun Mountain cart bags - and other brands - offer rain hoods to keep your gear safe and dry in the event of inclement weather.
-Ease of carrying - Some Sun Mountain Golf Cart Bags come with special systems that make it easier for you to carry them around when you need to, even if this isn't their express purpose. For example, the C-130 mentioned above comes with a Smart Strap System.
-Reduced weight - A reduced load is always a bonus, and some cart bags are designed to weigh less, even if it's only as a balance between the room they offer and the overall weight.
Need a little more help choosing between our Sun Mountain golf cart bags to find the one that works best for you? You can always count on us for more information! Get in touch with us at 800-955-9550 and we would be more than happy to help you out! We'll take into account what you need and offer up some advice regarding what other players are happy with so you can make a well-informed decision.
Plus, while you're here, check out our collection of other golf bags, including stand bags and travel bags - there's a good chance you won't be able to get by with just a cart bag!