Posted by Dallas Golf on 13 Jul 2021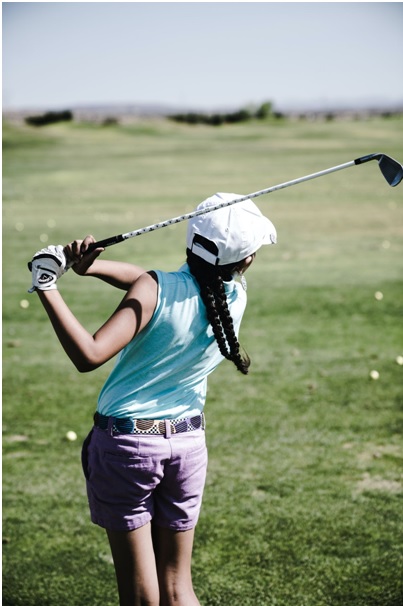 It's a pretty banal joke by this point that golf is not simply a sport, it is an acronym standing for "Gentlemen Only, Ladies Forbidden." Pause - funny as this may be in some circles, golf may have originated (the jury is out) in Scotland, which is considered by many to be the birthplace of the sport. Coincidentally, the modern Scottish Gaidhlig word for golf is "goilf," so there may be more than a grain of truth to this theory.
Back to the humorous introduction: Nowadays, there are many women who enjoy the sport. Women golfers constitute a respectable portion of participation in the sport of golf, and according to the National Golf Foundation (NGF), at least 19% of all golfers are women. Other estimates accounting for global participation are higher. In at least one report, the NGF estimated that up to 40% of golfers around the world are ladies.
Consequently, manufacturers have been responsively developing golf equipment geared toward lady golfers, not the least of which are golf bags. If you are, yourself, a female golfer, you'll need at least one bag, so what should you look for in golf bags for women?
Lightweight Design
The lightweight design of many golf bags for women is specifically intended to cut back on fatigue so you can better enjoy your time on the golf course. Many stand bags, for example, are specially designed to be as lightweight as possible, for the same reasons.
Many of these come in at only a few pounds empty and make use of other special features that make them suitable for golfers who walk the course. In addition to being light, they're also easy on the person carrying them - some of them, both men's and women's golf bags feature special shoulder straps and padded hips, making them both more comfortable and easier to carry.
Protective Features
Lightweight nature is most common in golf stand bags and is universal among high-quality designs for both men and women. Depending on your needs, such as if you travel long distances to play golf, you might want a travel bag with protective features.
Some travel bags are actually designed to fully enclose a stand bag or a whole golf cart bag so that you don't need to do any reorganizing before hitting the road or going to the airport. Traveling golfers might have a special need for a travel bag with unique protective features, such as padding or internal retention straps to keep everything secure.
Plenty of Room and Specialized Pockets
Storage space in both stand bags and cart bags is a concern not only for male golfers but for women as well. Golf bags for women should also provide adequate space so you can carry along the essentials for the course.
Remember, in addition to your clubs, tees, golf balls, and gloves, you'll probably also be carrying along a range finder, water, a towel, paper and pencils, and perhaps even a spare pair of shoes or a change of clothes. You might also need to carry along some additional refreshment, and of course, where will you store your valuables?
Therefore you must purchase at least one golf bag that meets your needs in terms of storage space, one that is easy to carry and has plenty of room for all of your essentials. Many golf bags offer not only plenty of space but also specialized cooler and valuable pockets, among other unique features.
Other Personal Preferences
If you can meet these requirements, then you can freely turn your focus to whatever else you'd like to be sure you get in a golf bag. Remember, this is a piece of equipment that will prove vital to your success (and enjoyment) on the course, and you should be certain you make no compromises when shopping!
For example, now is the time to make sure you get a golf bag in your color of choice, or with any of the other bells and whistles you'd like to see in one. You might also like a bag that, for example, can be carried without limiting access to your pockets, or one that has extra padded straps for comfort.
Call or Visit Us for More Options
Whatever set of features you ultimately land on for a golf bag, know that we have a variety of options and brands available, including top picks from Club Glove, Sun Mountain, Datrek, Titleist and many others.
You can reach us by phone, but we'd love for you to come into our retail location in Dallas, Texas if you're in our neighborhood. Join us in-store and you can get up close and personal with some of our ladies golf equipment - our expert staff will even be glad to lend you a hand!
Otherwise, feel free to call us at 800-955-9550 anytime you have any questions about our golf bags or other equipment.