Posted by Dallas Golf on 03 Aug 2021
It's always an indescribable luxury to go golfing with a caddie to carry your fine clubs and keep them safe. You get to worry only about your playing and not on picking up and putting down your equipment. Unfortunately, we can't all afford to have a caddie at our disposal every time we hit the green. We are then left to carry our own golf bags most of the time. Of course, a golf cart assists us when going from hole to hole, but what about during just one round? It can be exhausting and also difficult to find the perfect place to set down your bag.
That's where stand golf bags come in. When using one of these bags to carry your clubs, you can have your bag open and ready for easy perusal so you can find the right club at the right time. Instead of laying your bag on the green, in the dirt, or in the sand, you can prop your bag up and open it towards you. This will keep your clubs and bag free of dirt and stains, making your golfing experience more enjoyable.
At Dallas Golf Company, we know all there is to know about golf. When you are searching for the right equipment to improve your golf game and experience, we got you covered. From tees and golf balls to wedges and apparel, we have everything you need. Plus, if you are budget-conscious, not to worry: we have both new and used items available so you can always play with the best equipment. We are proud of everything we offer our customers, but we especially pride ourselves on having the best stand golf bags.
In order to know which of these bags is right for you, you need to know which are the best out there now, their advantages and disadvantages, and their cost. Let's take an in-depth look at the seven best stand golf bags today so you can get to playing your best golf game sooner.
1.Callaway Strata Ultimate Stand Bag
Naturally, Callaway has made it to the top of our list and it is no wonder why. This bag has an abundance of positives for any golfer. It has a 7-way top with three full-length dividers, for one, so you can organize your clubs better, then find the right one during play faster. For storage, this bag provides its owner with five pockets. Looking to keep your drink cold during a blistering hot day? Then you'll certainly enjoy the insulated cooler sleeve on this bag.
The positives don't end there. Another great attribute of this bag is that it has a rain hood so that you can keep playing your game, rain or shine, while keeping your bag and the equipment inside it safe and dry. When carrying this particular bag, you can experience the utmost comfort, as the straps are ergonomic. If you are looking for color options, then this is the bag for you. It comes in the classic black and white, but also black, white, and green. On top of all of that, these bags are brand new for the attractive price of $89. Sporting a golf bag from put to put never looked or felt so good.
2.Titleist Players 4 Stand Bag
Would any list of best golf bags be complete without a Titleist? We didn't think so. The brand new Titleist Players 4 easily makes this one. This gray with a hint of green plaid stand bag is just what you need to keep everything in a convenient location. It has a 4-way top for optimal organization with seven pockets. There is even an embroidered shamrock on the side because every golf player could use a little luck now and then.
The storage space is ideal in this bag, as it has seven pockets, one of which being a large apparel pocket that is lined with velour to keep your valuables safe, reachable, and dry. It's extremely lightweight as well at a measly 3.8 pounds, making carrying it around on the green the closest thing to effortless. This practical, efficient, and lucky bag costs $220, but it pays to get the best of the best. Use this bag whenever you hit the green and you will not regret it-- nor will your game.
3.Datrek Superlite Stand Bag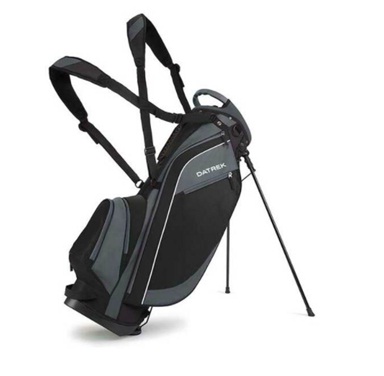 If you are in the market for a golf bag that stands and is lightweight, then we have the perfect bag for you: the Datrek Superlite Stand Bag. This golf bag is storage-conscious, no-nonsense, and convenient. Its ergonomic straps and lightweight design contribute to its easy lifting and carrying so you only use your muscles for your swings and puts and not for your golf bag. Its eight-way top is perfect for organization along with its five pockets and full-length apparel pocket, which all make for fantastic storage space for clubs, putters, carrying balls, tees, gloves, jackets-- anything and everything you need.
Thinking of bringing a nice, cold water with you and want to keep it that way throughout the day? Slip it into the insulated cooler sleeve. And, when that sun isn't shining, cover the entire bag and its contents with a rain hood for safekeeping. This brand new, luxurious golf bag is just $129.99. It even comes in two color combinations: black with charcoal and black with orange. Could it get any better than that?
4.Bag Boy Hybrid Stand Bag
Are you looking for something that is the perfect middle ground between a stand golf bag and a standard golf bag? Then the Hybrid Stand Bag from Bag Boy is just what you need. It has a 14-way organizational top with seven zippered pockets, which includes one fleece-lined pocket specifically for your valuables. It features an ergonomic handle and a swivel attachment system that allows you to easily separate the shoulder strap. If you are ever worried about your golf bag sliding off the back of your golf cart, not to worry: this bag's creators thought of that, too. With its unique patented Top-Lok technology, you can easily attach it to the cart for safekeeping. Is it raining? Not a problem. Slide the rain hood over your clubs and they will be safe and sound, untouched from the elements.
How about astounding patriotic colors for your golf bag? This most certainly has that beautiful spec. The Hybrid is red, white, and blue with blue stars and even red and white stripes throughout. Plus, it is a pleasant and affordable $159.99 when purchased with us. It is the golf bag that is always two steps ahead of you so you can think more about your playing than your equipment.
5.Titleist Players 4 Carbon Stand Bag
Now for something that takes durability and efficiency seriously for your convenience: the Titleist Players 4Carbon Stand Bag. This bag's legs are made of carbon fiber. Carbon fiber is a material that is strong and stiff while also being lightweight. It's so strong, in fact, that it rivals the strength of steel. Therefore, the legs on your stand bag won't weigh it or you down while executing its job flawlessly. The bag weighs just 2.8 pounds, making it one of the lightest stand golf bags on the market today.
Alongside these excellent perks, it has a four-way organizational top and six pockets, one of which is made to keep your valuables in a safe and soft place. During those rainy, snowy, foggy, or misty days, it has a matching rain hood to keep the clubs inside of it dry. Another great feature of this bag is that it doesn't have a big or blocky logo. It's mainly gray with a bit of royal blue and white to provide you with a golf bag that is practical and stylish. This new and unique stand golf bag is $249.99 on our site and worth every penny.
6.Titleist Limited Black Camo Collection Players 4
If you want your bag to easily blend in with your surroundings so that it doesn't distract you or anyone around you from the game, then this camouflage golf bag was made just for you. The Limited Black Camo golf bag allows you to keep your eye on the ball and less on your stuff. This specially designed golf bag has seven pockets with ample room in each one. The top is four-way for easy organization of your clubs. It is also lightweight as it weighs just 3.8 pounds.
This golf bag takes your carrying and hard work into consideration. Not only is it lightweight, but it also has a double strap for easy lifting and lugging around. Since the bag is made of the best materials as well, that strap isn't looking to ever break on you, nor is the bag. If you have metal accessories or tools, whether it's your scope golf laser or even your golf cart keys, there is a magnetic pocket just for them. It's also located in a convenient location in the bag, so you can find your magnetic objects easily whenever you need them. Another great pocket is the valuables pocket, which is soft to the touch and perfect for safekeeping. There's nowhere else your valuables would rather be.
This Titleist takes your comfort and mobility seriously. It is set at the price of just $220. Wherever you are looking to go, this bag is ready to come with you and serve you right.
7.Sun Mountain 2021 2.5+ Stand Bag
Last but certainly not least is the Sun Mountain 2.5+ stand bag. This is a brand new and classic-styled golf bag with the added luxury of legs for convenient standing. The 2.5+ model has a nine-inch top with a four-top divider, which makes putting your clubs in and taking them out simple. Within the bag, there are six pockets, together supplying you with plenty of storage. And yes, one of those pockets is just for keeping your drink cold and refreshing.
This bag has been made with the thought of being carried in mind. It has a unique x-strap system, which allows you to put the bag on your back. This can make carrying it across the green less awkward and overall easier as it relieves stress on most of your muscles. The shoulder straps are also high-density and made of foam, providing you ultimate comfort while carrying around your golf bag all day.
On top of all these remarkable advantages, it also has legs that are made of carbon fiber. This material allows for durability and strength when the golf bag stands and holds your equipment, but is lightweight, so it also improves the already easy carrying experience. Altogether, this bag weighs just under three pounds. The colors of this bag are also enticing, as they are navy blue, white, and red. If you want a bag that lets you portray your patriotism, this is the bag for you. It even has an embroidered American flag to further compliment this already incredible bag. This new bag costs $229.99, an excellent price for an excellent bag.
There you have it: the seven best stand golf bags on the market today. There are a lot of stand golf bags out there, all offering a large variety of features that can oftentimes be overwhelming. However, becoming aware of the best golf bags on the market right now, their materials, sizes, weight, straps, and many other aspects can help you decide which is right for you. These are our top seven golf bags with the added convenience of legs to stand. We hope that this has assisted you in narrowing down your search so you can get to purchase the right bag faster and ultimately, playing golf with an out-"stand" -ing partner by your side. If you have any questions about these bags or any of our other golf accessories, feel free to call us at 800-955-9550. We can't wait to help you find the right stand golf bag for you!