Posted by Austin Chen on 24 Aug 2018
The summer of 2018 has been a busy one for the golf industry with a plethora of new clubs released. One trend around the industry is the re-release of a popular model in all black. The TaylorMade P790 irons, Callaway Rogue Pro irons, and TaylorMade TP Ardmore 3 putter have all been released this summer. Keep reading below to see what all the hype is about!
TaylorMade P790 Black
Key Features
Speedfoam
Carbon Cast
Tungsten weighting
Lighter Shaft
Floating Face
The P790s are a distance iron for better players. It has become a very popular trend on tour where you get the best parts of a blade and cavtiy back iron by getting a hollow body and forged face. The black is a high gloss finish created via a PVD process. The black P790 heads are paired with an all black True Temper Dynamic Gold 105 stiff shaft. The set starts at $1,199.99 for the 5-PW and is offered up to 4-PW, AW for $1,799.99. This is a limited release so you will have to act fast if you want your hands on these bad boys.
Callaway Rogue Pro Black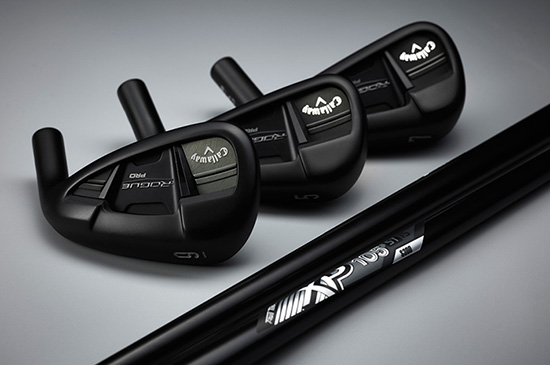 Key Features
360 Face Cup and VFT
Tungsten weighting for optimal flight and control
Urethane Microspheres
Simply put the new Rogue Pro irons are the best combination of distance, accuracy and playability ever in a Callaway iron.Just like the TaylorMade P790, the Callaway Rogue Pro irons are now offered in a black head with a black shaft. The set is going to be a little cheaper and there is a option for graphite shafts. You can choose a set from 5-PW with UST Recoil 780 stiff graphite shafts for $824.99 or 4-PW,AW with stiff True Temper XP 105 steel shafts for $1,099.99. These irons are targeted at mid handicappers all the way to pros.
TaylorMade TP Ardmore 3 Putter
Key Features

Pure Roll Insert
Provides golfers with added stability, a single sightline on the cavity, and an L-Neck hosel with 12 degree of toe hang.
This putter is probably best known as the putter Tiger Woods switched to recently. He replaced his Scotty Cameron blade with the new TP Ardmore 3 black copper mallet. The putter costs $219.99. One key feature in the putter is the Pure Roll insert. Combined with 45 degree grooves with a softer polymer, the insert increases topspin and improve forward roll across varying surfaces. This helps the ball start and stay on its intended line. There are adjustable sole weights allowing players to dial in the preferred swing weight. The putter head is constructed of milled 303 stainless steel to create premium feel and responsiveness.